Scarpigert Cardigan
After a bit of a delay I'm back to writing the series on the patterns that make up my the book, Langsoond – A Shetland Yarn; 10 Modern Knitting Patterns inspired by my Island Life.
The Scarpigert Cardigan is the first pattern I designed for the collection in Langsoond Double Knit yarn; at the time I wasn't planning to write a pattern book but basically wanted a cropped and fitted cardigan that I could wear with high waisted trousers and skirts. I still remember clearly when I cast it on – I was on the Northlink Ferry going south from Shetland to Aberdeen with 3 friends, this was the start of our holiday to Iceland in July 2018. We caught the train to Glasgow and flew out to Iceland the next day where we had a magical week.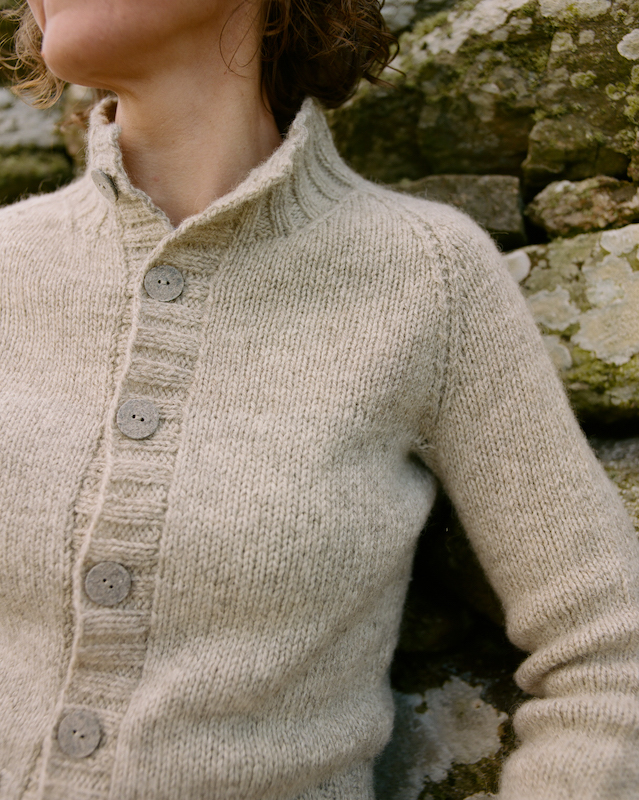 While I was knitting and designing this cardigan I was reading the novel Shadowed Valley by John Graham, a very powerful story set in 18th century Shetland during the time of the Clearances when families were evicted from their homes by the land owners to make way for sheep. "Scarpigert" was the fictional croft where the story was set, and I still think of that story when I look at the the cardigan. This story had a profound affect on me, while although the story was a fictional one, it is based on true events, and many of the houses that were cleared can still be seen within the Shetland landscape. A cousin once told me he remembered a Grand-Uncle recalling how his family had to live in a plantie-crub (a stone enclosure used to grow kale seedlings) when they were evicted from their home. This brings it home to how our past isn't quite so distant. You can read an excerpt and hear the author reading it (in dialect) here.
Unfortunately the book is now out of print but can be picked up second hand occasionally and is available from the Shetland Library.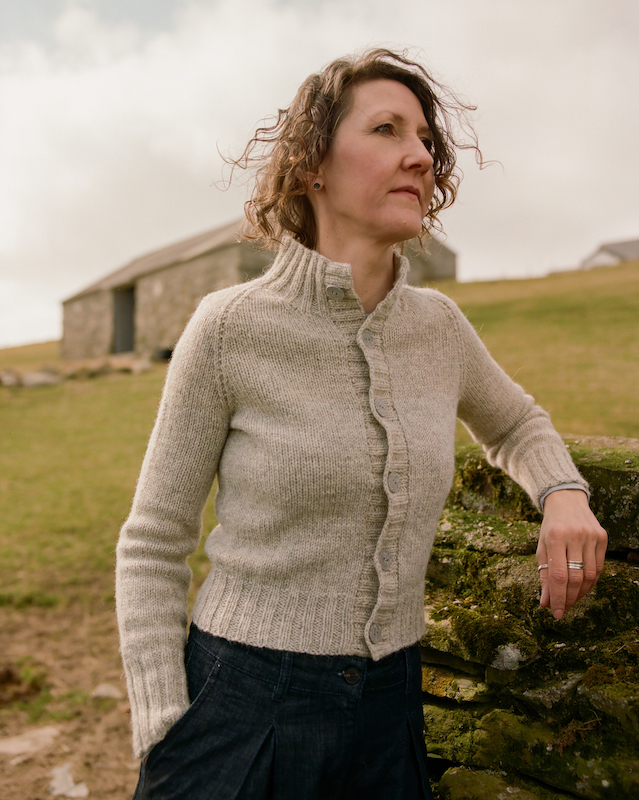 This cardigan is knitted in Light Stane, one of the undyed colours of Langsoond Yarn. The body and sleeves of the cardigan are knitted separately, the body is worked flat with increases at each side to form a slightly inverted A-line shape, and you have the option of knitting the sleeves either flat or in the round (knitting it flat means your tension will be the same as the body if you find our tension varies when knitting socking stitch in the round). The body and sleeves are then joined to work the yoke. Decreases are made around each "seam stitch" to create the Raglan shaping. To give a snug fit around the shoulders, the slope of each "seam" is shaped rather than being straight.
The cardigan is designed to be work with 0-5cm (0-2in) of negative ease. But depending on your preference it works equally well when worn with 10-15cm (4-6in) positive ease. Here I am wearing the sample in size 2 with 3.5 (1.5in) negative ease)
Sizes range from a finished measurement of 70cm (27in) to 163cm (64.25in).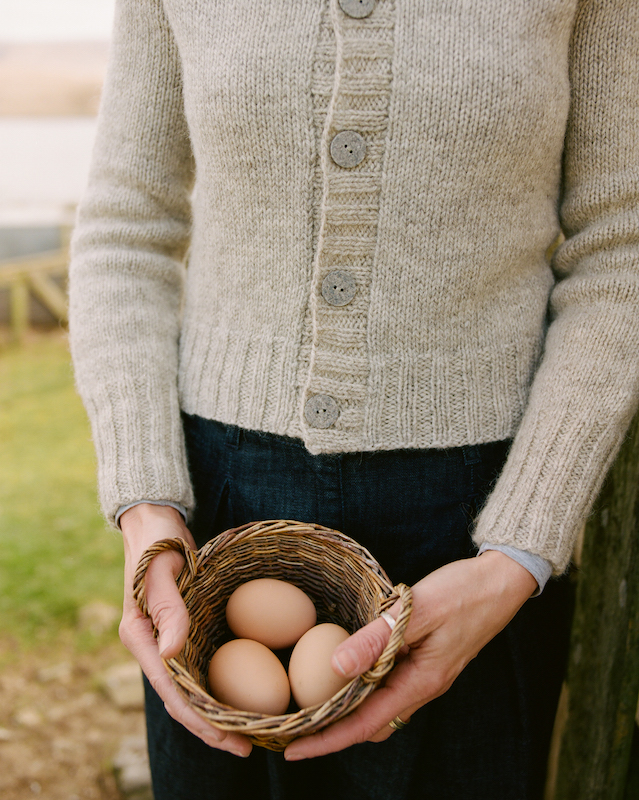 When choosing your size, I would recommend going with the finished bust circumference and comparing this with a cardigan or jumper you already own you have so will get an idea of fit.
Pattern Details:
Sizes
To fit chest:
75 (86, 101, 114, 124.5)(135.5, 146.5, 157, 168) cm
29.5 (33.75, 39.75, 44.75, 49)(53.25, 57.75, 62, 66.25) in
Finished chest circumference:
70 (81, 96, 109, 119.5)(130, 141, 152, 163) cm,
27.5 (31.75, 37.75, 42.75, 47)(51.25, 55.75, 60, 64.25) in
Back length:
49.5 (50.5, 51, 52.5, 53.5)(54.5, 55.5, 56.5, 57.5) cm
19.5 (19.75, 20.25, 20.5, 21)(21.5, 21.75, 22.5, 22.75) in
Yoke depth:
19.5 (20.5, 22, 24, 25.5)(27, 28, 29.5, 30.5) cm
7.75 (8, 8.75, 9.25, 10)(10.75, 11, 11.75, 12) in
Top sleeve circumference:
26 (27, 31.5, 34.5, 37)(40, 42, 45.5, 48.5) cm
10.25 (10.75, 12.25, 13.5, 14.5)(15.75, 16.5, 18, 19.25) in
Cuff circumference:
21.5 (24, 26, 26, 28)(28, 30.5, 30.5, 32.5) cm
Sleeve length:
43 (43, 42, 41, 41)(40, 40, 39, 39) cm
17 (17, 16.5, 16.25, 16.25)(15.75, 15.75, 15.25, 15.25) in
Yarn
Langsoond Double Knitting (100% Shetland Wool, 220m (241yds)/100g skein)
Light Stane; 3 (4, 5, 5, 6) (6, 7, 7, 8) skeins
Gauge
18.5 sts and 24 rows and rounds to 10cm over stocking stitch worked flat and in the round, after blocking.
This sample was worked using size 4.5mm
(UK 7/US 7) needles for the body and sleeves and size 4.0mm (UK 8/US 6) needles for the rib.
Donna wears a size 2 with 3.5cm (1.5in) negative ease.
Needles and Notions
Circular needles, length 80cm (32in) or longer, in size required to match gauge, for body
Circular needles, length 80cm (32in) or longer, 0.5mm smaller than gauge needles, for rib
Sets of DPNs or needles for working small circumferences, in gauge size for sleeves, and in smaller size for rib
Stitch markers
Tapestry needle
Waste yarn or stitch holders
7 (7, 7, 7, 7) (7, 7, 7, 7) buttons, approx 2.2cm (0.87in) in diameter (the buttons in the sample were purchased from Textile Garden).
The pattern is currently only available as part of the book collection, hardcopies of the book with a complimentary download code and e-book versions are available, yarn packs are also available in the shop which provides you with all the yarn to need to knit for chosen size.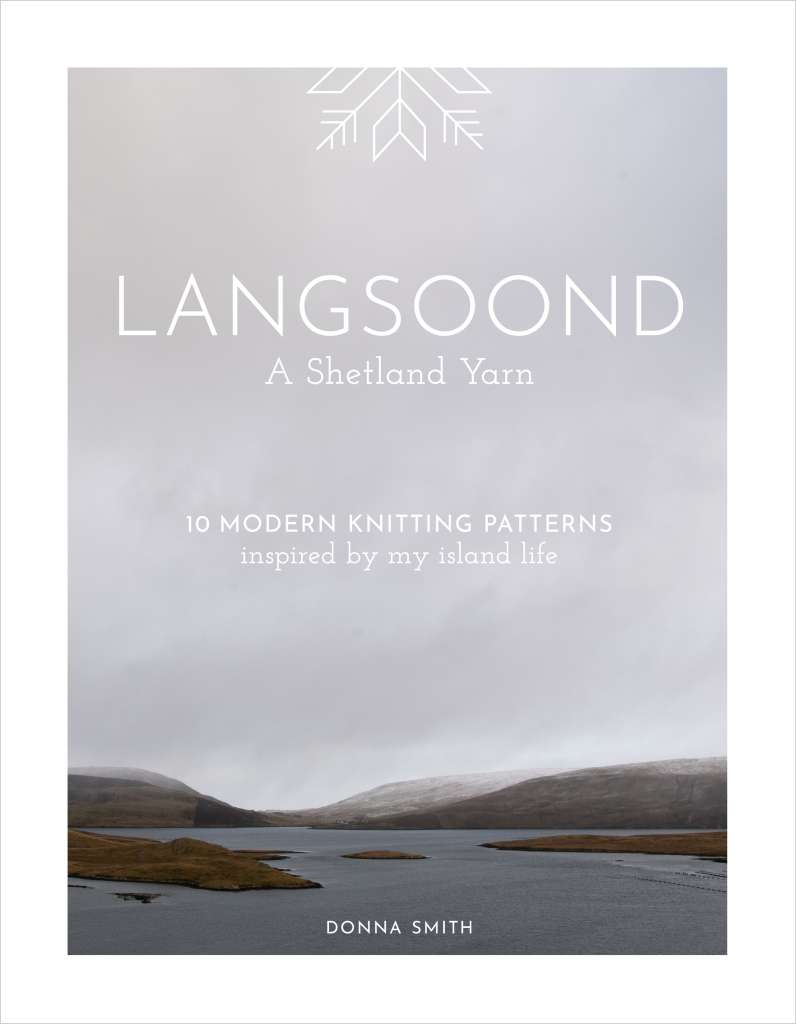 Enjoy knitting the Scarpigert Cardigan!