Jacobina Cowl
Over the next few blogposts I will be sharing the patterns that feature in my new book LANGSOOND – A Shetland Yarn. The first pattern seems an appropriate one to start with, a cowl named after my Granny, Jacobina who lived next door when I was growing up and played a huge part in my life. She was one of the several women who taught me to knit and about the knitting traditions of Shetland.
My Grandparents bought the croft I live on just after the second world war; they kept sheep, a cow, hens, grew oats and were pretty much self sufficient in vegetables for feeding the family and the animals. Each year Granny would pack up the wool from the sheep and send it away to a mill on the mainland. In turn they would send her either yarn or woollen blankets. I never thought that one day I would be doing the same.
The pattern on the cowl is inspired by a cardigan I remember my Granny frequently wearing. The photo below shows her in the centre wearing that cardigan, and her cousin on the left wearing a matching one. Her sister, to the right is wearing one of a similar style.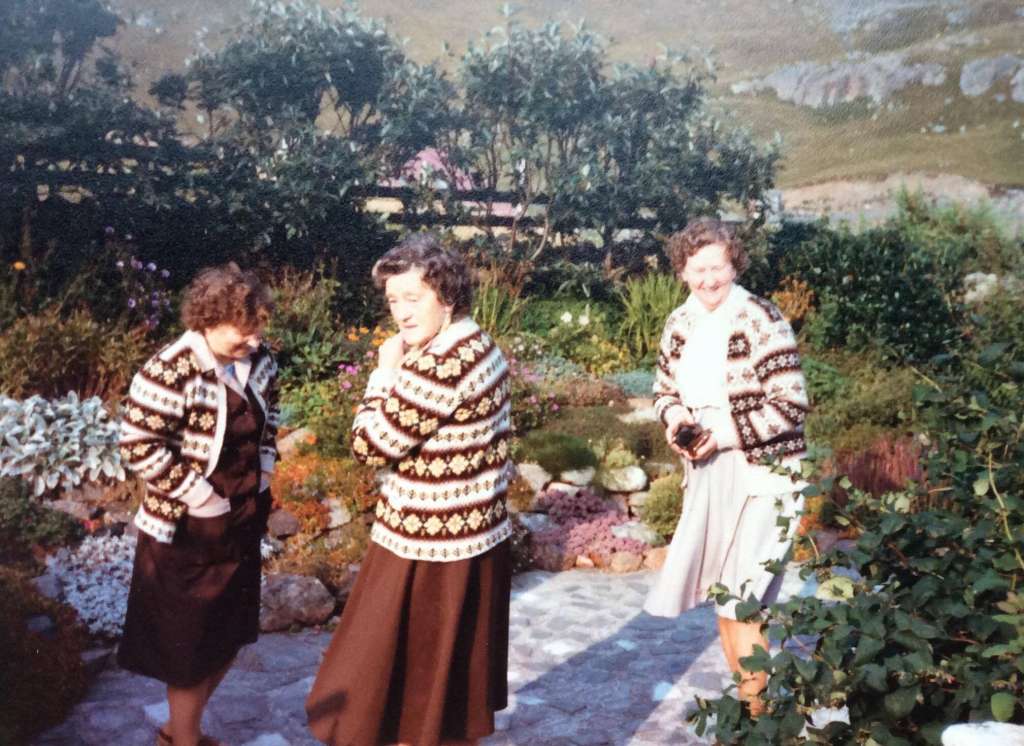 After she died the family got it made into a few Burra Bears as a keepsake.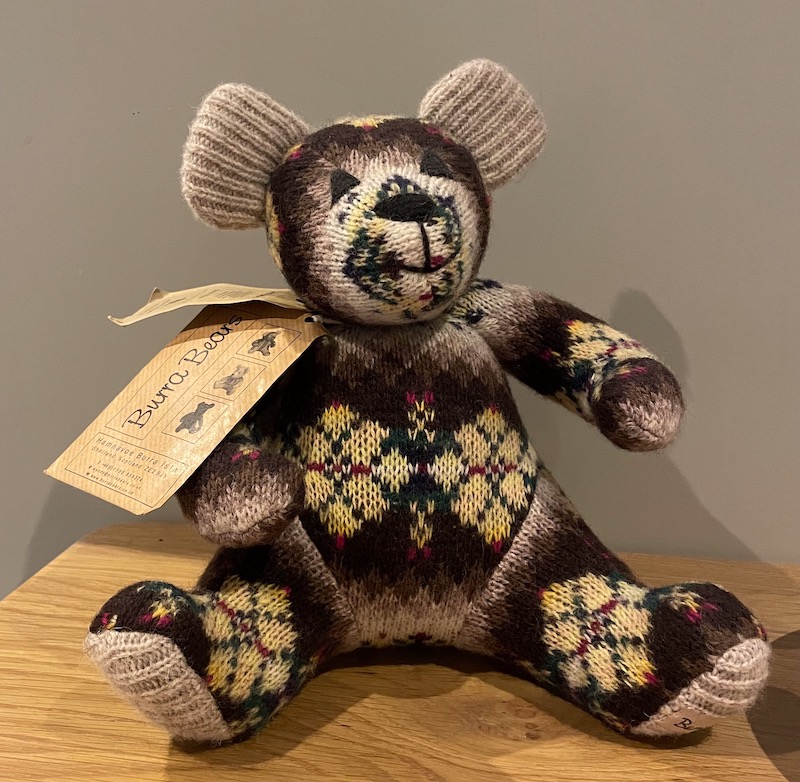 I used the "flower" design as a starting point and repositioned it to create more of an all-over pattern rather than the striped pattern in the original.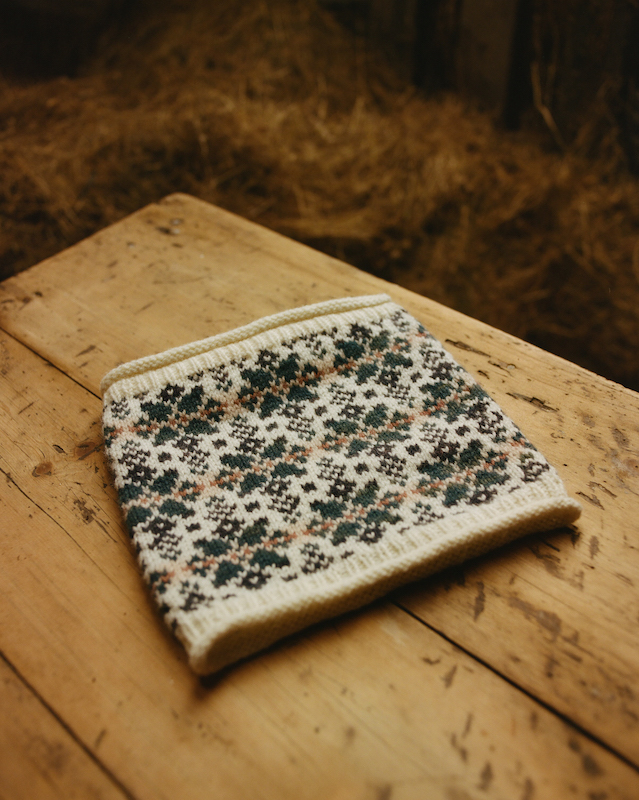 The pattern is knitted in four shades of naturally dyed yarn on a natural white background, in two sizes. I will have a limited number of kits (the yarn only, the pattern is available in the book) for sale during Shetland Wool Week and any remaining stock will go on the website once wool week is over or until I can dye up some more kits.
The use of the double knitting weight yarn and an all-over pattern creates a fairly thick fabric and, as the cowl is relatively narrow width it fits around your neck snuggly to keep out those draughty winds.
Pattern Notes
The cowl begins with a few rounds of stocking stitch in the background colour to create a curled edging, then a few rows of rib before the pattern begins. The pattern uses two colours throughout the main part of the cowl and it is finished in the background colour with a section of ribbing, then several rounds of stocking stitch to mirror the start.
Sizes
Small (Large)
Actual size: 25 (29) cm / 9.75 (11.5) in wide x 25 (25) cm / 9.75 (9.75) in deep (when measured flat)
Yarn
Langsoond Double Knitting (100% Shetland Wool, 220m (241yds)/100g skein)
Shade A: Keksie x 1 (1) skein
Shade B: Midnight x 1 (1) skein
Shade C: Medium Blue x 1 (1) skein
Shade D: Pale Pink x 1 (1) skein
Shade E: Aald Rose x 1 (1) skein
The pattern colours in the cowl only require small quantities of yarn and is a very good way of using up scraps.
Approximate quantities of yarn used:
Shade A: Keksie x 53g (60g)
Shade B: Midnight x 13g (15g)
Shade C: Medium Blue x 19g (22g)
Shade D: Pale Pink x 2g (3g)
Shade E: Aald Rose x 9g (11g)
Gauge
25 sts and 25 rounds to 10cm over colourwork pattern in the round, after blocking.
Please check your tension carefully and adjust your needle size accordingly.
Needles and Notions
Set of circular needles, length 60cm (24in) or longer, or your preferred needles for working in the round, in size needed to obtain correct gauge
One set of similar needles one size smaller than gauge needles, for stocking stitch and rib.
This sample was knitted in size 4.5mm (UK 7/US 7) needles for the colourwork, and in size 4.0mm (UK 8/US 6) needles for the stocking stitch and rib.
Stitch markers
Blunt tapestry needle
You can buy the book by clicking on the link below: